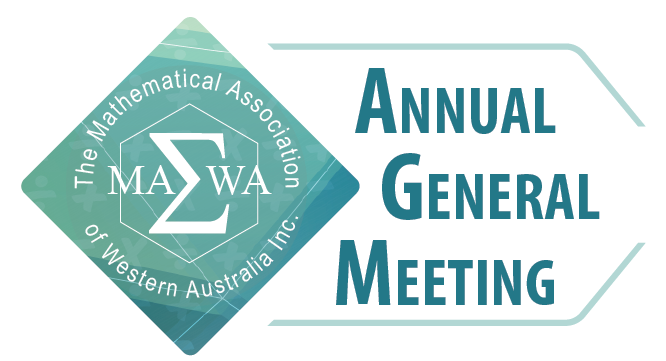 Dear MAWA members,
Your organisation needs YOU!
You are invited to attend the AGM of your organisation on 7th April, 2020 at:
5:00 pm for light refreshments, finger food and conversation with colleagues and committee members followed by …
6:00 pm for the usual business proceedings of an AGM as per the draft agenda below.
Venue:
The Mathematical Association of Western Australia
12 Cobbler Place, Mirrabooka WA 6061
RSVP:
March 24th, 2020
Please note that we urgently need member support by attendance at our AGM.
We would appreciate your RSVP to help with catering and also to be reassured of the legal requirement of having the necessary quorum.
All committee positions need only one nomination, so no-one will be trying to twist your arm to join the committee, although of course we would welcome increased interest and hope to recruit new people to help with various subcommittees running the many MAWA activities.
Committee involvement is not restricted to those living in the Perth Metropolitan area and regional interest is welcome.
The important thing is that you attend, have input into how your organisation works and have your say about any needs that you perceive MAWA could be helping with. Attendance can be in person or virtually. We have bi-monthly committee meetings and sub-committee meetings each alternate month.
Looking forward to catching up with you all.
AGM Proceedings:
Opening of Meeting
Attendance and Apologies
Confirmation of Minutes of previous Annual General Meeting
Presentation of Annual Report by the President
Treasurer's Report
Presentation of Honorary Life Members
Election of New MAWA Committee (Board)
Vote of thanks to outgoing Committee members
General Business (if any)
Closure
Kind regards,
John West
MAWA President
As a member of the Association we hope that you will attend the AGM.
Didn't get an invite in your email inbox? Please contact manager@mawainc.org.au
If you wish to nominate for a position on the MAWA Committee, please complete the nomination form.  If you are unable to attend the AGM, you may use the proxy form instead.